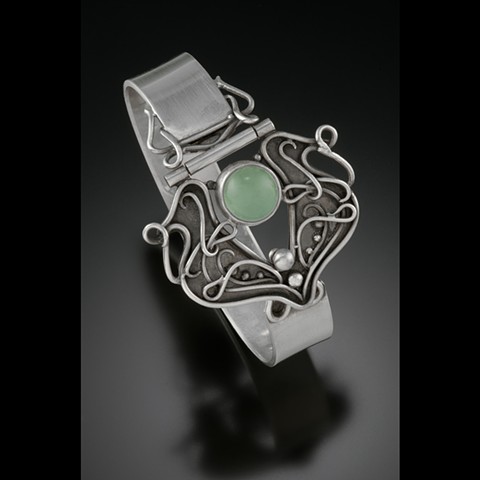 My jewelry: is made of 14k and 18k gold and sterling silver. It is completely constructed (no cast elements) with an emphasis on unique hinge work, gemstone color juxtapostions, as well as found objects such as beach glass and rock. My influences are primarily architecture and nature, and my work is clean and simply executed.
My life: I was born and raised in Evanston, Illinois. What a blessing to be raised in such an enriched arts community! Walking to school was a history lesson, meandering past homes built by prominent Chicago Architects and enjoying all the blacksmithed gates and fences that lined the way. No wonder I love creating hinges and smithing metal!
Currently I live in Glenview, Illinois with my husband and children, two cats, dog and an occasional mouse. It is my dream one day to illustrate children's books that my kids and I have written, not to mention build a nice iron fence with a lovely hinged gate in front of our tiny little home.
Most of the photography was done by me, but the fabulous photography with the black background was done by Larry Sanders of Sanders Visual Images, Milwaukee, WI.